After intense touring 'Of Desire' in Europe, Asia and beyond, The KVB returned to their studio to further immerse themselves in sonic experimentation . The resulting 'Above Us' heralds the next chapter in the adopted-Berliners dark, electronic pop development. With waves of synthesisers, flourishes of surf guitar and sequences driving with nervous en- ergy, the tension finally relieves with asurging, euphoric chorus.
Brighter and more expansive than ever, the track demonstrates the bands growing ability to create sonic journeys, yet retains the atmosphere synonymous with The KVB."'Above Us' is about defiance in reaction to the anxieties of modern life. In a world where you and your data are the product, 'Above Us' seeks to reclaim the power over yourself and to make your own decisions." – Kat & Nick, The KVB
http://www.thekvb.co.uk
https://www.facebook.com/thekvbmusic
They are the Swedish captains of postpunk. The quartet from Stockholm is a fresh breeze of gothic renaissance, kicking darkness around with hammering rhythms and melodies that make hearts melt and blood freeze. The fascination for doom and darkness pervade and influence every tune and word.
The music of Then Comes Silence takes the listener on a journey from swinging postpunk to the shadows of goth-gaze and into scraps of coal hearted psych. The sharp soundscape is intense, massive and pounding. The lyrics flirt with death and sorrow. It's goth, psychedelica, rock and post- punk in a symbiosis. Since the band's very first show, as the opening act for A Place to Bury Strangers in 2012, TCS have been signed to Nuclear Blast, supported Fields of The Nephilim, Chameleons Vox, toured frequently around Europe and released four full-length albums.
The sonic collaboration of two guitars creates an imaginative dimensional sonic picture, propelled either side of the drum and bass lead, like a dark and winged creature. Sinister and threatening vocals set up a presence that is both exciting and foreboding. Adrenaline guaranteed! Their music attracts wide attention and is praised for its apocalyptic sound and dystopian message.
Their fourth album, "Blood", released October 20th 2017 on Nuclear Blast was produced and engineered by Tom van Heesch (Rammstein, Entombed A.D., Backyard Babies, Michael Monroe).
http://www.thencomessilence.com
http://www.facebook.com/thencomessilence
Bleib Modern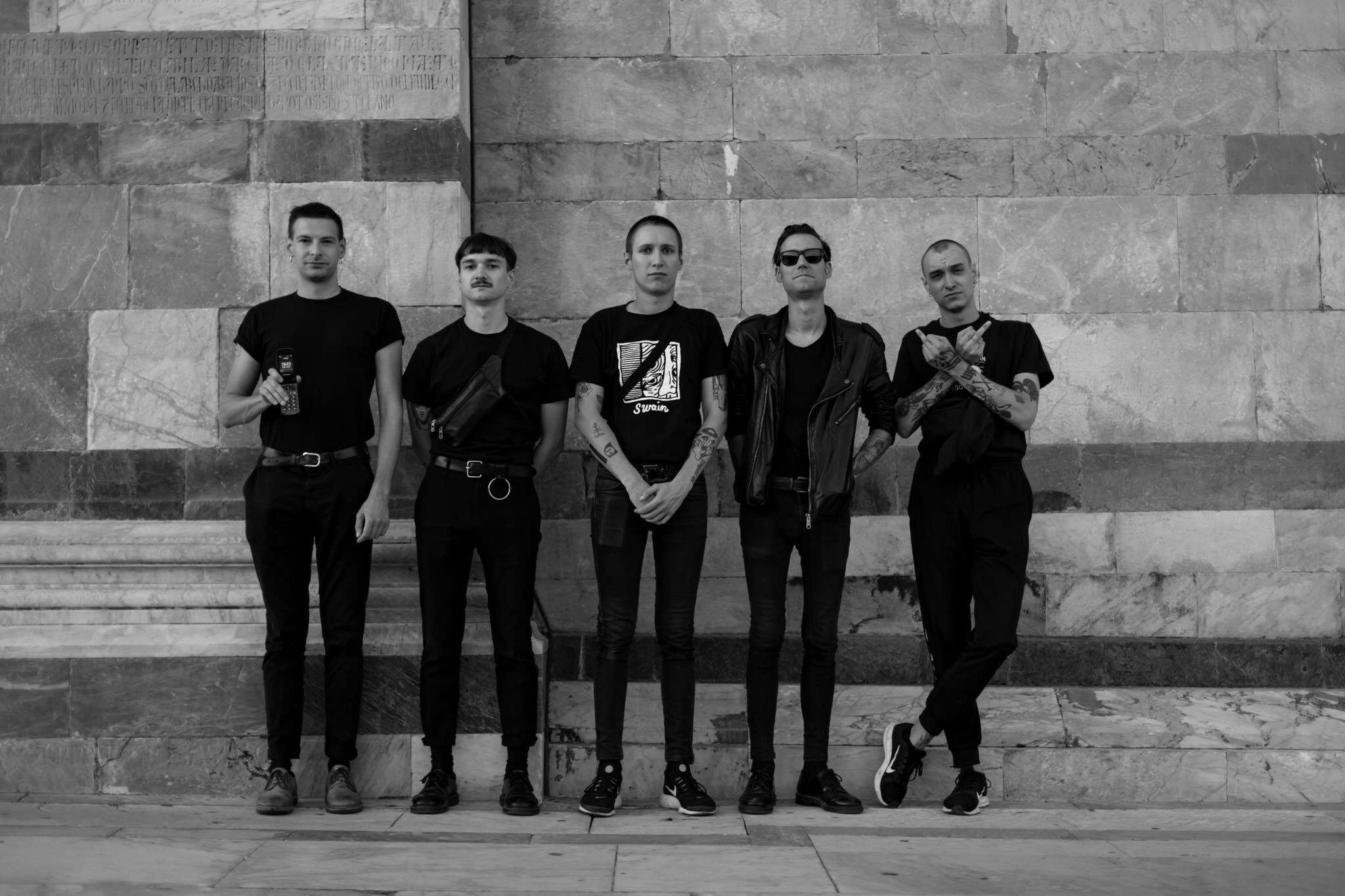 There is no repose from the cathartic sounds from Bleib Modern – sounds that dredge up the darkest recesses of the heart with their ceaseless explorations around the personal and emotive responses to life.
Throbbing bass lines lead the onslaught of hypnotic reverb, penetrating riffs, mechanical drumming and visceral vocals that expose the very bones of emotion or lack thereof. Founded by Philipp Läufer in 2014 as a solo project, it wasn't until after 2015 when Vinz, Peter, Leo and Tommy joined.
With their fourth album set to take off in 2018 Bleib Modern has toured heavily across Europe and Scandinavia.
https://bleibmodern.bandcamp.com
https://www.facebook.com/bleibmodern/
undertheskin is one-man studio project / live trio. It's like a post-punk double espresso – intense, driven by coldness & dark atmosphere of the 80's electronics mixed with shoegaze/post-punk guitars – together with extraordinary male vocals create the atmosphere of inevitable end…
The debut album undertheskin received great reviews all over the world — only a week after the premiere it reached the no. 1 position on bandcamp as the world's best-selling alternative album!
https://underskin.bandcamp.com
https://www.facebook.com/0undertheskin/
The Last Cry


Brighton based trio, The Last Cry have built up quite a reputation as a "must see" live act around the UK and Europe. The band describe their music as "Darkwave" and have over the last decade created a style all their own. Their live shows have an energy and intensity that draws you in and can leave you exhausted by the end of a show.
The Last Cry have released three albums in the last decade, and over the years have played all over Europe. In 2014 they also did a short tour of the US which was very well received. 2016 saw the release of their latest album "Goodbye" and a short tour around Europe followed its release, which culminated in two sold out shows in London and Leeds.
The highlights of 2018 were playing Whitby Goth Weekend, WGT in Leipzig and Murder of Crows in Brooklyn, New York, all of which were warmly received.
The band are currently working on a new album as well as being back out playing live again around the UK and Germany.
Over the years The Last Cry have had the pleasure of supporting many of their favourite bands, including the likes of The Stranglers, New Model Army, Chameleons Vox and The Mission.
https://thelastcry.bandcamp.com
https://www.facebook.com/The-Last-Cry-112348155471541/
Brigitte Handley – is an Australian singer-songwriter and guitarist from the band, the Dark Shadows. Known for her dark atmospherics and deep spellbinding vocals, Brigitte is currently based in Europe promoting her solo album, The Edge of Silence. Brigitte performs mesmerising solo electric shows with her black Gretsch and assortment of FX pedals combined with atmospheric video art projections.
Brigitte Handley has toured and performed internationally as a solo artist as well as with her band The Dark Shadows, sharing the stage with bands such as Glasvegas (UK), Lydia Lunch (USA), Fischer-Z (UK), Peter Murphy (Bauhaus), Marty Wilson-Piper (The Church), The Jim Jones Review (UK), Hugh Cornwell (The Stranglers, UK), The Stray Cats (USA), Ken Stringfellow (The Posies), Kristof Hahn (Swans), Skeletal Family (UK), Der Fluch (Germany), Marky Ramone (USA), Christian Death (USA), Frustration (FR), †13th Moon† (Japan), Sham 69 (UK).
Brigitte has also appeared at international festivals including, Leopalooza (UK), Wave Gotik Treffen (WGT), Leipzig, Germany, Winter Acoustic Festival, Düsseldorf, Geisterfest in Burg Sternberg Germany, Whitby Gothic Weekend UK, Art of Dark Festival, Cologne, Semana Gotica Festival Madrid, Spain, Psychomania Rumble Germany, Ink 'n' Iron Festival in Long Beach CA, USA
https://brigittehandley.bandcamp.com
https://de-de.facebook.com/brigitte.handley/